company profile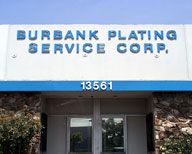 Established in 1965, Burbank Plating Service Corp. maintains a modern 20,000 sq. ft facility in the Los Angeles Area of California. BPS is the largest source for Cadmium plating and Cadmium alternatives on the West Coast and is one of the largest Zinc platers.
BPS is owned and operated by Kyle Barnett who purchased the company in 2016. Kyle is continuing the values of the generations before him at BPS and he continues to strive for outstanding service & quality for all customers. Before BPS Kyle was very involved in the farming industry and he completely understands the importance of a hard work ethic and communication with all customers.
We feature such industry innovations as a fully equipped chemistry laboratory, two fully automatic computer controlled production lines, computer generated work order tracking system, X-Ray plating thickness testing and a brand new, state of the art waste treatment facility. Our computer-controlled production lines can each produce up to 40,000 pounds per day.
Much of our business has been servicing the aerospace industries with our Cadmium plating. Aerospace has led the nation in quality control for many years. In response we have raised our level of quality above the normal commercial plating house, to meet our customers' needs. In accordance with this philosophy, we have a full analytical laboratory, which allows for complete control of all of our processes. BPS also uses the most accurate technology for measuring plating thickness, X-Ray fluorescence.
Ford Motor Company, General Motors, and Daimler-Chrysler have approved BPS for all processes.
BPS has always shown a commitment to customer satisfaction. BPS has shown a desire to remain on the cutting edge of technology with its sophisticated testing capabilities and its pursuit to provide the newest types of functional coatings. Burbank Plating Service is a member of the Metal Finishing Association of Southern California and the Los Angeles Fastener Association.