Go Green with Burbank Plating's Green Zinc.
We have a client who needed to have some of their fasteners plated without Hex-Chrome. The problem is that it is difficult to identify common zinc plating vs. trivalent chromate, which is non-hexavalent, RoHS compliant zinc plating. They both look like blue/clear zinc. Well Burbank Plating Service has an answer.
Go Green!!!!
BPS has perfected a method of dying parts that produces a beautiful green color. You may know the color by UL Green, which is used on grounding screws. This finish not only looks great but it has great corrosion resistance and is Hexavalent Chrome Free. RoHS is a directive restricting the use of heavy metals such as Hexavalent Chrome for electronic products. Many other non-electronic manufacturers have decided that they too would prefer to eliminate hexavalent-chrome from their parts. The client in this case makes truck brakes. Making your parts green says to the assembler that these are specially designated Non-Hex chrome parts. This finish also tells the end user that these bright green parts demonstrate that you are doing your part for the environment. So remember…..
Go Green with Burbank Plating's Green Zinc.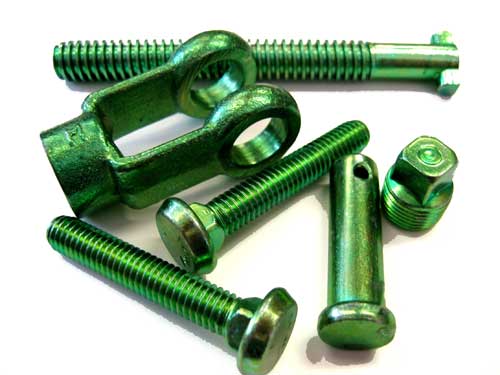 Written by
Andy Scheer
Vice-President
Burbank Plating Service Corp.
Please contact us if you have any further questions.